Pressure Leaf Filter
---
Pressure leaf filter made of stainless steel or carbon steel wire mesh is designed to filter liquid and solid. A complete pressure leaf filter consists of 5 layers different gauge wire mesh. They are 2 layers fine filter mesh, 2 layers supporting mesh and 1 drain mesh. All layers wire mesh are together bound by a tubular frame, and are made leak proof by machine riveting or bolting depending on the requirement. The quality of filtration and leaf life depends on quality of outer fine mesh and riveting. According its usage, it can be divided into vertical pressure leaf filter and horizontal pressure leaf filter. Vertical pressure leaf filter features round shape, and is ideal for solid or liquid separation and well-suited for handling toxic, flammable and corrosive material.
Horizontal pressure leaf filter features rectangle shape and perfects for batch processing applications which require high flow rates and safe operations with low solids removal.
All types pressure leaf filter are installed in mounted vertically on a common manifold pipe, through which the filtered liquid flows out.
Products Specifications
Products Specifications
---
 Wire mesh material: Stainless steel, carbon steel.
 Frame material: SS304, 316, 316L.
 Pressure leaf filter construction:
Filter leafs are constructed of 5 layers SS wire mesh of different gauge wires.
2 Ply Fine Filter Mesh.
2 Ply Supporting Mesh.
1 Drain Mesh.
Product Features
---
 Precisely designed.
 Good filtration area.
 High Filtration rate.
 Less space required.
 Minimizes corrosion problems.
 Ideal replacement for plate and frame filter.
 Simple and economical.
 Easy to install.
 Low maintenance.
Technical Data
Products Show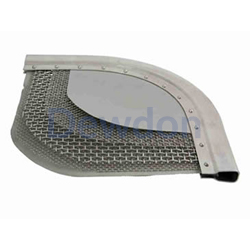 Application
 Beverage industry.
 Petrochemical industry.
 Chemical industry.
 Pharma industry.
 Edible oil industry.
 High vacuum separation by molecular distillation.
 Lube oil re refining.
 Sulphur filtration.
 Bleaching earth.
 Brine manufacturing.
 Glucose industry.
Copyright © 2012 - 2019 Linlax Infotech Private Limited. All Rights Reserved.