Sintered Filter Disc
---
Sinter filter disc made of multi-layer wire mesh is a perfect filter fittings having the function of filtering, washing, drying. The multi-layer filter is overlapped by sintering in the vacuum sintering furnace. This wire mesh overcomes the problems of the low intensity, poor rigidity, mesh instability enough, deformation easily. Its overall performance is significantly higher than sintered metal powder, ceramic, sintered metal fiber filter mat and other products.
Products Specifications
The sintered filter disc includes three types: one combine type and two monoblock types.
---
 Combined type: filter plate and supported plate are welded together, filter pieces is connected with bolts.
 Monoblock type 1: weld or use bolts to connect the filter plate and supported plate, then flange is welded to them.
 Monoblock type 2: sintered directly the filter plate and perforated plate, then they are welded with flange. Complete or part of filter disc can work normally.
Product Features
---
 Good strength.
 Accurate filter rating.
 Works long time.
 Repeatedly cleaning and usage.
Technical Data
Products Show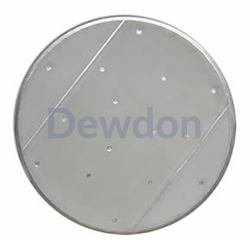 Application
 The sintered filter disc is widely used in the petroleum, chemical fiber, chemical, energy, aviation, security, environmental protection, medicine, electricity industry, etc.
Copyright © 2012 - 2019 Linlax Infotech Private Limited. All Rights Reserved.