Deep Pleat Box Filters
---
The filter media of Dewdon's Deep Pleat Box filter is a water repellent pleated micro-glass fiber paper, each pleat is separated either by a Kraft paper or aluminum separator.The completed pleat pack is then bonded into a frame which may be of high density particle board, galvanized mild steel, stainless steel or aluminium. Neoprene gaskets may be fitted to either or both filter faces.
By extending the surface area it is possible to increase the flow rate for a given size of filter. Approximately twice the flow rate may be achieved through the same size of HEPA FILTER by extending the surface area – this is accompanied by a slight increase is pressure drop. Face grilles are available as an option.
Products Specification
| Frame | Filter Media | Seperator | Sealant | Gasket | Safe guard |
| --- | --- | --- | --- | --- | --- |
| Aluminum/ Galvanised steel /Stainless steel | Fine fiber glass | Aluminum/ Paper | Polyurethane | EVA/EPDM | Color coated steel grid |
Product Features
---
 True depth filtration.
 Longer service life.
 Total protection.
Technical Data
Products Show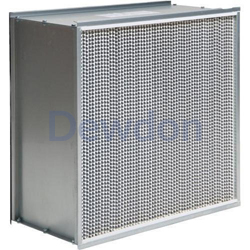 Application
 The HEPA Deep Pleated Filter normally used for final filtration applications in clean rooms, computer suites, asbestos removal areas, hospital operating theatres and any site requiring ultra clean conditions.
Copyright © 2012 - 2019 Linlax Infotech Private Limited. All Rights Reserved.